Follow Me
Description
Follow Me ingeniously instructs your Windows Start Button to follow your mouse cursor, where ever it goes! When you execute this software, it will automatically hide in Windows and wait for your mouse cursor to move. Once your cursor moves, it automatically moves your Start Button to the same position, horizontally, on the Windows Task Bar. The best part about it is the Start Button still works!
This trick is a great one to pull on your friends. Just load this software on their computer and listen for them to say "huh?". Follow Me also supports emailing to your friends and family, be sure to send the instructions on how to close down this software.
Screen shots
Click on an image for more detail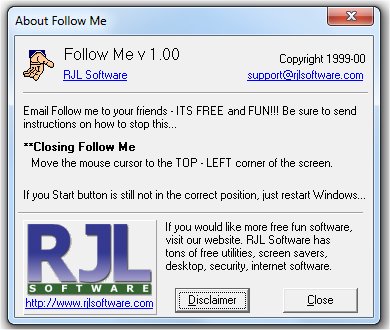 How to close
Move your mouse pointer to the TOP LEFT corner of your screen. This will stop the program from running in memory. If you have successfully moved your mouse in the correct position, the program will close and display an About Box Screen. Once you close this screen, the program will exit. Exiting the software will allow Windows to delete the file.
Download Follow Me
Follow Me zipped - 103K
Like this software? Donate $1.00
Windows Support
Follow Me will run on these Windows editions:


XP20032000NTME9895